Shiba Inu has once again been flipped by Litecoin in terms of market cap as the meme coin has recorded losses of 6% in the past 24 hours.
Shiba Inu Is Down More Than 6% Today
The year 2023 so far has overall been a pleasant time for SHIB holders as the coin is up around 40% year-to-date. But in the past day, the market hasn't been so kind on the meme coin as its price has observed some significant decline.
At the time of writing, Shiba Inu is trading around $0.00001132, down 6% in the last 24 hours. Here is a chart that shows the trend in the price of the asset over the past month:

The value of the crypto seems to have sharply risen during this period | Source: SHIBUSD on TradingView
As can be seen in the above graph, Shiba Inu caught an upwards momentum in the first week of this month and continued to rapidly rise until forming a local top above the $0.00001270 level around a week ago. In the days that followed, however, the coin mostly displayed a sideways movement, until today came around and the asset plunged.
Over the last seven days, SHIB is now down around over 8%. For comparison, rival coin Dogecoin has only seen a decline of less than 2% in this period, while Bitcoin has observed decent profits of almost 7%.
One question arises here: why did Shiba Inu see such a drop? According to crypto whale tracker service WhaleStats, the DOGE-cousin coin has been the most traded token among the top 100 Ethereum whales today:
📰 JUST IN: $SHIB @Shibtoken flipped $NMR for MOST TRADED token among top 100 #ETH whales

Check the top 100 whales here: https://t.co/N5qqsCAH8j

(and hodl $BBW to see data for the top 5000!)#SHIB #NMR #whalestats #babywhale #BBW pic.twitter.com/WnD70M3mVj

— WhaleStats (tracking crypto whales) (@WhaleStats) January 25, 2023
While high trading activity from whales can sometimes have a bullish effect on the price, as it may be a sign of accumulation from them, today's movements from this cohort may actually have been done with the purpose of selling instead, which would provide an explanation behind the decline in the crypto's price.
Nonetheless, the 500 largest ETH whales were still holding onto more than $600 million worth of SHIB as of yesterday, so even with some short-term selling today, this cohort might have some large long-term positions still set up.
🐳 The top 500 #ETH whales are hodling

$606,186,035 $SHIB
$149,861,656 $BEST
$87,204,580 $LOCUS
$82,520,983 $MATIC
$70,925,015 $BIT
$68,961,547 $LINK
$64,312,686 $QNT
$62,585,574 $UNI

Whale leaderboard 👇https://t.co/tgYTpOm5ws pic.twitter.com/5EWZ77PN4k

— WhaleStats (tracking crypto whales) (@WhaleStats) January 24, 2023
Litecoin Has Flipped SHIB In Market Cap Again
Litecoin and Shiba Inu have been fierce rivals on the list of the top cryptocurrencies by market cap in recent weeks, with both coins getting a chance to take the lead at a few different points.
With SHIB's most recent drawdown, LTC has once more overtaken the meme coin as its decline hasn't been as sharp. The below table shows where the two coins stand in the wider crypto sector right now.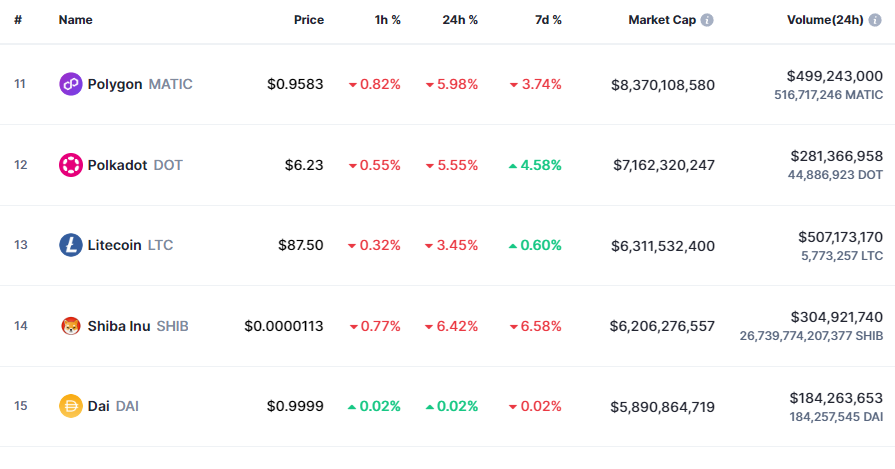 Looks like SHIB has a market cap of $6.2 billion now | Source: CoinMarketCap
From the table, it's visible that Shiba Inu has now dropped to being the 14th largest crypto in terms of market cap, while Litecoin has moved up to the 13th position.
The coin just below SHIB is the stablecoin Dai, and it's not too far off from the meme coin's market cap. This means that if SHIB continues to decline, it may quickly fall down to the 15th spot.
Featured image from Ferhat Deniz Fors on Unsplash.com, chart from TradingView.com