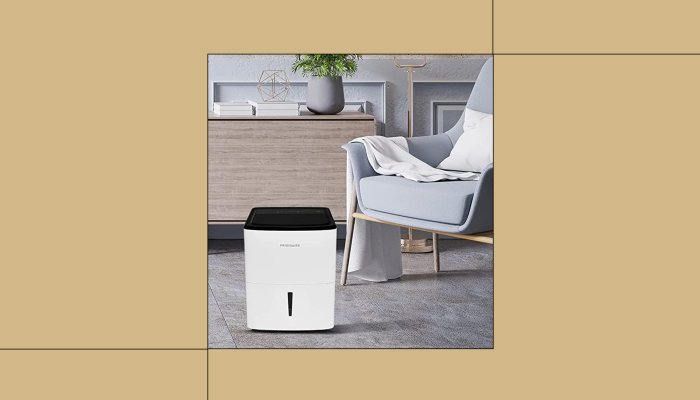 Looking for a portable dehumidifier you can transport from room to room? With caster wheels and side handles, this handy pick is easy to move throughout your home to eliminate excess moisture. It works best in small to medium rooms, therefore is an excellent choice for bedrooms, laundry rooms, and garages. Short on space? Simply wheel the machine into storage when you don't need it. 
A helpful control panel allows you to set your desired humidity level and check the device's water levels. If you're not using the continuous drain option, the machine will automatically shut off when the water tank is full. Its front-loading bucket, handle, and splash guard make the emptying process simple—plus, the removable filter can be hand-washed in the sink. While most humidifiers should only be used in spaces between 59 and 86 degrees Fahrenheit, this particular model is suitable for temperatures down to 41 degrees Fahrenheit. 
With nearly 5,500 five-star Amazon reviews, this dehumidifier is praised for its convenience, high-end features, and bucket design. "This dehumidifier is small but mighty," one reviewer raves. "With Oklahoma's high humidity, I have been pulling over two of the detachable buckets of water, which are at least a gallon, out of the air daily. I use the water for my potted plants, so this product is a win-win. Portable and easily accommodated." 
Although the reviews are mainly positive, some do mention that the machine can be a bit noisy when running on the highest setting.