Mark Zuckerberg said in a recent earnings call that Meta's next consumer oriented headset, speculated to be the Meta Quest 3, will include full color mixed reality features. This could be a major shift in the VR industry and the company's continuing fascination with shared virtual spaces.
In his conference call with investors last Thursday, CEO Mark Zuckerberg said that "later this year," the company would release its next-generation consumer headset, which will be much cheaper than the Quest Pro and yet still feature Meta Reality, the same feature used on the Meta Quest Pro to allow full-color passthrough video.
Meta first showed off its $1,500 Meta Quest Pro during its last Connect conference and made a point of its upgraded outward facing cameras, which allow users to see color footage of their environment in real time. Of course, the Pro's external video itself is somewhat limited and grainy. If that bothers you, then there's not much more functionality for the current iteration of the passthrough tech other than helping you avoid stubbing your toe on any wayward desk feet.
None of Zuckerberg's comments explicitly mention the expected "Quest 3" headset, but he did clarify that he's talking about a consumer option here. As noted by TechRadar, Zuckerberg told Stratechery last year that the upcoming Quest 3 device will cost between $300, $400, or $500, meaning it will likely be sticking to the entry level line of VR headsets, but this latest mention could be a hint that Meta wants to generate more buzz around mixed reality, AKA a combination of augmented and virtual reality tech.
None of Zuck's comments point to what software capabilities the next Quest device might have. But the Meta CEO remains bullish on mixed reality tech. He said "The value of MR is that you can experience the immersion and presence of VR while still being grounded in the physical world around you." He added "I expect that this is going to establish this technology as the baseline for all headsets going forward, and eventually of course for AR glasses as well.
G/O Media may get a commission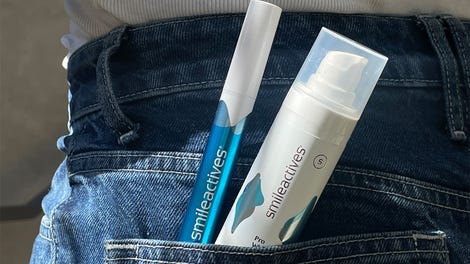 58% off
Whitening Powerhouse Pen & Gel Duo
BRIGHTEN YOUR SMILE
Whiten your teeth at home with Smileactives' one-two punch: the Whitening Powerhouse Pen & Gel Duo. This set will get you the kind of teeth brightening power that uses the same ingredients that dentists rely on for in-office whitening treatments for a fraction of the price.
Last year, Meta bumped up the price of its 128GB and 256GB Quest 2 versions by $100, to $399 and $499, respectively. This latest news from Meta's top metaverse proponent only helps reinforce that the company is continuing to frame the Quest series as the most mainstream way to access a VR experience. If it starts putting in MR capabilities as well, it would set itself apart from most other headsets currently available that don't cost well over $1,000.
But as it stands, Meta is not facing nearly as much competition for similarly priced entry-level VR. Pico, owned by China-based ByteDance, revealed the $425 Pico 4 last year, though the device is still unavailable in the U.S. market. Sony's upcoming PlayStation VR2 is priced at $550, though out of the box it is only compatible with the PS5. Some people will certainly find ways to get the device to work on PC, but according to Bloomberg, PSVR 2 sales expectations are far below what the company anticipated, though Sony has refuted those claims.
Notably, the PlayStation VR2 also includes external cameras to let users see their space around them, though that footage won't be in full color, so any kind of MR games or features would be incredibly limited.
As much as Meta's finances took a beating last year, the company has spent over a billion dollars per month on metaverse tech. Meta said Reality Labs, the group responsible for its virtual reality efforts, had suffered losses of $4.28 billion the previous quarter, all while revenue for VR has been decreasing year over year. Meta's Chief Financial Officer Susan Li told investors that Reality Labs Q4 revenue was down 17% "due to lower Quest 2 sales."
Despite these worrisome financials, Meta won't quit on VR or the metaverse just yet. The company recently won a major victory against the Federal Trade Commission for its $400 million acquisition of VR fitness company Within.